I'd long believed that the tab system in Haiku could be more intuitive for newer users, as after all, BeOS is who really pioneered the yellow tabs system-wide, which we now take for granted on desktop environments on various operating systems today.
And I post a well-known example of this for everyone below:
But the problem is that this isn't 1999 or 2001 anymore, and tab discovery is pretty much a universal thing now. So, what if each window made it a bit more obvious that tabs could be added to a window rather than needing to hold down a modifier to do it? Of course, there'd be an option under Preferences to change this to classic behavior, but it would still be there for those that preferred a Web browser like experience.
So, here's my idea (done up really fast with some screen clippings and a few shapes, so please don't bash the end result, which I know isn't the greatest).
Each window would have a '+' or plus button next to the existing title tabs to allow switching between them, again, like one would in a browser.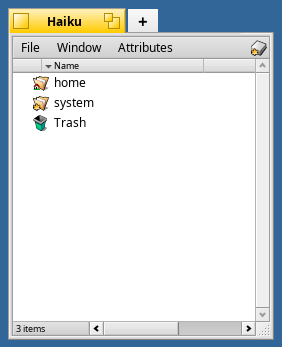 And in my imagination, if someone clicked the button, I'm thinking something similar to this would pop up (again, I know the artwork is really rough/unfinished, but all I'm trying to do is convey the spark of this idea):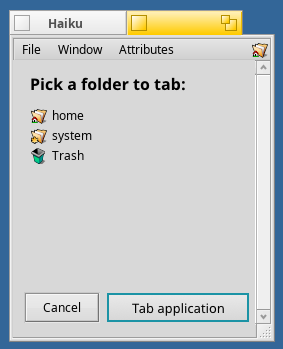 Clicking the folder would instantly tab it, or one could contextual drill-down on one of the folders to locate and tab a subfolder.
Clicking the close button on the tab (or Cancel) would close the tab and stop the operation.
Or, clicking "Tab application" would tell Haiku that you really want to tab two apps together.
And finally, if the 'tab application' button was pressed, something like this would pop up:
Again, close would cancel the tabbing operation, or clicking an app would instantly attach it to that window as a tab.
Haiku really does need to move forward when we get to where Release 2 starts (and I do know that's a long ways off. There's the upcoming Beta 2, maybe more, and of course, Release 1 itself). But since I haven't found any Glass Elevator topics, I thought this would be a good start to get concept discussion(s) going again.

An example from the Mac…
As a visual example of what inspired me to write this post, here's what the Mac does in Pages when "View All Tabs" is selected:
So I am hoping that one day Haiku will have a similar functionality and reclaim the place of Be of being the baron of tabs again.