System sounds are not "playing" when they should be triggered–except for one, the "Beep" works when triggered.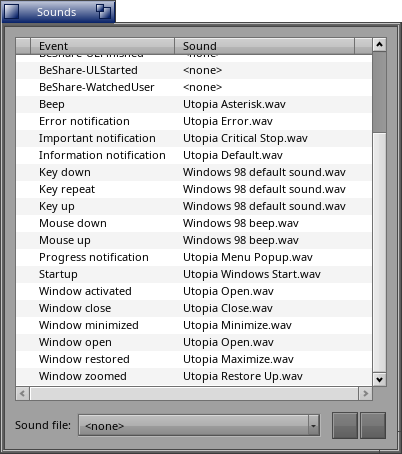 I am testing Haiku's personalization capabilities (from a common user perspective). System sounds should just work…
Is there something that I do not see in Preferences to "activate" them?
The Menu was editable in BeOS and Zeta–what is this mess about read-only FS's!! Really!? We need to have the Menu in one place where users can personalise Haiku as we did previously. The read-only FSs need to go away!!
How can I get rid of the "System" version of the menu so it can only use the "Home" version. Is this "blacklistable"?
I finally figured out the most pressing issue regarding themes by copying the themes from "System" to "Home" so I can use and update them. (Again the read-ony FSs … can you make them read-writable on-the-fly like how the package manager does it to performs its updates when installing software?)
So my question is this–is there a theme builder software? I am unable to locate one for Haiku.
Thanks everyone in advance!!