Haiku bootet korrekt vom USB-Stick, bis auf sehr wenige Ausnahmen (dort nix zum Booten gefunden).
Ein großes Problem ist, dass ich machmal auch nach 10-15 maligem hintereinander booten nur schemenhaft erkennen kann, dass Haiku erfolgreich gebootet wurde (Hintergrundbeleuchtung nicht on?).
Früher (u.a. vor 1 Jahr) zeigte BILDCHIRM: AU Optronics 15,5"
Jetzt: DO NOT USE AUO 15,5" (wie auf dem angehängten ScreenShot).
DeepL Trans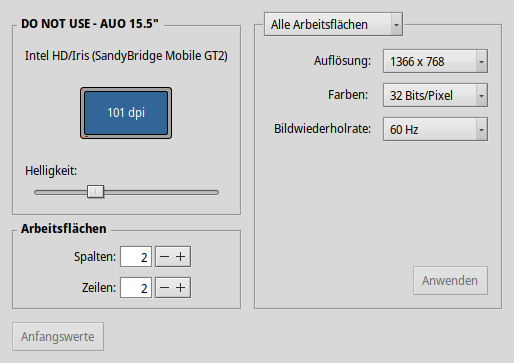 late:
Haiku boots correctly from the USB stick, with very few exceptions (nothing found there to boot).
A big problem is that I can sometimes only dimly see that Haiku has booted successfully (backlight not on?) even after booting 10-15 times in a row.
Earlier (among other things 1 year ago) showed PICTURE DISPLAY: AU Optronics 15.5 ".
Now: DO NOT USE AUO 15.5" (as on the attached ScreenShot).