[RFC] Tracker: Mid click on desktop + associated new "user menu"

Added the basic provisions to support mid click on the desktop
Mapped this to a newly implemented, partly user configurable desktop menu:

User folder (the default being /boot/home/menu, with fallback to /boot/home/config/settings/menu)
System applications, organized alphabetically in five submenus (e.g. "A-E") for better scalability and ease of use
System preferences

TODO: Decide on whether/how to parse subfolders (cf. e.g. system apps in own folders); input welcome.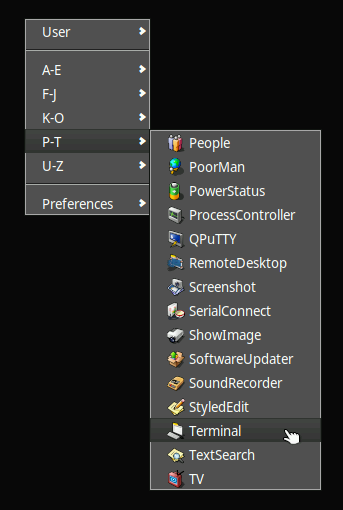 Work in progress / RFC in Gerrit → https://review.haiku-os.org/c/haiku/+/5909 (currently +150 lines of code, all in Tracker itself).
By the way, for people lacking a three button mouse, the same action is also mapped to Modifier+Right click (cf. how the regular Right click context menu is also mapped to Modifier+Left click).
Comments/input/feedback/likes/etc welcome!


BR//Karl aka qwilk/@xoblite