See 12750 - unfortunately probably quite tricky to bring together.
Ahoy folks !
It was originally PMs – however @apl asked his reply to rather discuss such things in public …
so, HERE YOU ARE
quote="KitsunePrefecture, post:1, topic:13331, full:true"]
Hi there

Unfortunately waddlesplash misunderstood my note in #18343 – I wrote
I can do registering … ment from my side : yes I can do it, but not equal that was supposed : I could do it.
So meanwhile I added supplemental notes he closed the ticket.
Anyway - now I have a password tha does not match somehow with requirements.
Those mentioned in description below - my password matched.
Does the actual settings allow to use non alfanumeric characters ?
Thanks for your reply,
János
[/quote]
and now - here it comes his answer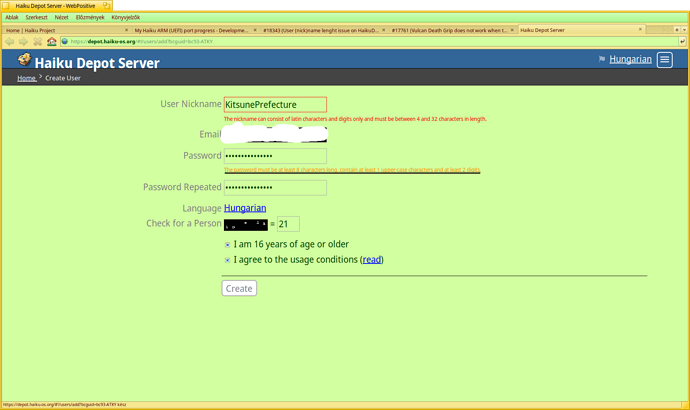 I hope I had not iterate making mistake to share our discussion HERE - against those open places he mentioned in his reply…
I can't register for the hello depot server from the application.
Does it include a list of applications installed on other systems, like Android has? That would be a cool feature.
Can you please try your username in lower case. For example "BigTree" would be "bigtree".
Are you able to elaborate on what you mean or what the problem is that you are experiencing when you register?
Does it include a list of applications installed on other systems, like Android has? That would be a cool feature.
It is not really clear what you mean here.
When you login with a Google account in PlayStore (Google's app store for Android) one can see lists of apps installed and uninstalled on other devices in wich you logged in with the same account.
Indeed it will be a nice addition that, hopefully, will entice more people to register and use their account.
In quite a few occasions I have tried and uninstalled an app, and later can't remember wich one was. Or simply when you need to do a fresh reinstall, or installing in another machine.
That means collecting and storing quite an amount of data about the user and his hardware. Some would call that feature user spying. I think that would go against Haiku philosophy.
Ah I see; thanks for the clarification. No, HDS does not seek to do this because it would mean storing information about users' devices' state.
Luckily Haiku is not Google


In the rare case such a thing ever got implemented, I will expect it to be optional and clearly explained.
No no, I just meant a fairly simple list of tried apps, no matter the machine.
At most, the app version tried, rating and comment. At most.
Ah, and only user accessible (client-side encrypted if you want), not for data survey or anything!
For that there's already the public comments and ratings and the opt-in anonymous usage statistics.