I improved/implement a new icons theme for Beam (the Mail client: https://depot.haiku-os.org/#/pkg/beam/haikuports/1/2alpha/-/-/4/x86_gcc2?bcguid=bc92-KMSK): I replaced the old folder icon with the one used in Haiku, I changed the "mail new" and the "mail read" icons, I updated the attachments icons and the "tofu" and "spam" icons, to make Beam look more modern and integrated to the Haiku's style.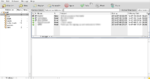 (click on the thumbnail to see the full image)
You can download them from here:
EDIT: (sorry, wrong link)
The following is the right one:
http://softwaredepot.altervista.org/haiku/upload/icons/_iconset_32_haiku.zip
How to install/use these icons on Beam:
Unzip _iconset_32_haiku.zip zip archive in /boot/home/config/settings/Beam ;
then open Beam, go to the preferences panel (File > Preferences) and inside the "General" section, click on the button "Select Icon Folder", browse to /boot/home/config/settings/Beam and select the folder named iconset 32 haiku. Then press "Save" in the preference panel.
That's all: enjoy them