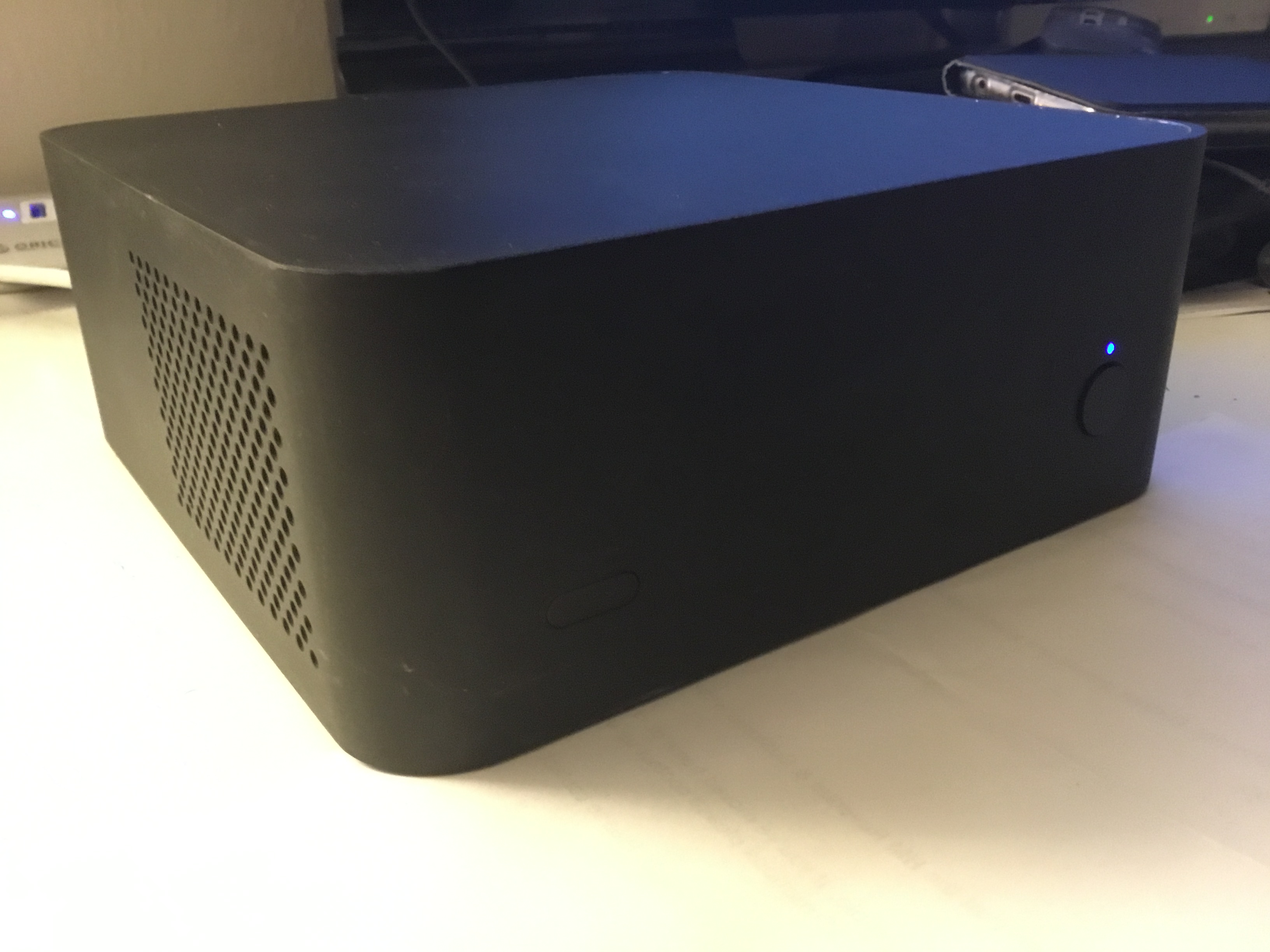 This is the spec of the machine all inside a neat box.
Machine:
Type: Desktop Mobo: ASUSTeK model: H110T v: Rev X.0x
UEFI: American Megatrends v: 4001 date: 11/27/2018
CPU:
Topology: Quad Core model: Intel Core i5-7500 bits: 64 type: MCP
L2 cache: 6144 KiB
Speed: 800 MHz min/max: 800/3800 MHz Core speeds (MHz): 1: 800 2: 800
3: 801 4: 800
Graphics:
Device-1: Intel HD Graphics 630 driver: i915 v: kernel
Display: x11 server: X.Org 1.20.4 driver: intel unloaded: modesetting
tty: N/A
OpenGL: renderer: Mesa DRI Intel HD Graphics 630 (Kaby Lake GT2)
v: 4.5 Mesa 18.3.4
Audio:
Device-1: Intel 100 Series/C230 Series Family HD Audio
driver: snd_hda_intel
Device-2: Logitech HD Webcam C910 type: USB driver: snd-usb-audio,uvcvideo
Network:
Device-1: Intel Ethernet I219-V driver: e1000e
IF: enp0s31f6 state: up speed: 100 Mbps duplex: full
mac: 38:d5:47:ab:a6:d1
Device-2: Realtek RTL8111/8168/8411 PCI Express Gigabit Ethernet
driver: r8168
IF: enp3s0 state: down mac: 38:d5:47:ab:a6:d2
Device-3: ASUSTek N10 Nano 802.11n Network Adapter [Realtek RTL8192CU]
type: USB driver: rtl8192cu
IF: wlp0s20f0u4u1u1 state: down mac: 8e:7e:ff:c9:81:42
Drives:
Local Storage: total: 2.19 TiB used: 7.34 GiB (0.3%)
ID-1: /dev/sda vendor: HGST (Hitachi) model: HTS541075A9E680
size: 698.64 GiB
ID-2: /dev/sdb vendor: Crucial model: CT525MX300SSD1 size: 489.05 GiB
ID-3: /dev/sdc model: ZTC-SM201-128G size: 119.24 GiB
the HAIKU OS is nightly Haiku shredder 1 hrev52993
Monitor is a Sony TV via HDMI port
The PC runs Windows10,Manjaro Linux,macOS and HAIKU.
Booting is via REFIND using HAIKU's efi loader.
What does not work:
webcam-hdmi audio-bluetooth usb-wifi usb-
For refind bootloader I found that HAIKU is recognised our of the box and boots into the safe booting menu everytime so I can choose what state to boot.
The software so far works but the WebPositive browser does not render properly when attempting to write this Topic: it does not show the html menu and does not accept drag and drop images. So I am using Otter browser and it works OK.
If any of the community members is interested in details of this build, ask !