This Intel-based tablet fell into my hands earlier today. It will boot from USB over OTG, so I thought I'd give Haiku32 R1B4 a shot.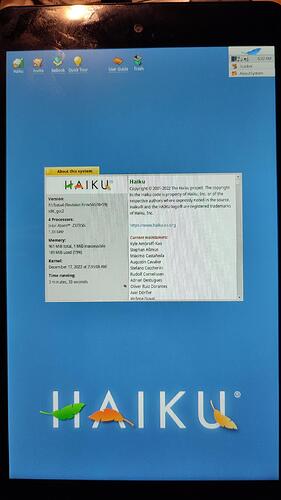 It has a quad-core 64-bit Intel Atom Z3735G, 1GB RAM and 32GB storage. It has a MicroSD card slot, a Micro HDMI port, and a few buttons (Vol Up, Vol Down, Power, Windows/Meta). It has an EFI32 BIOS, so wouldn't boot Haiku64 directly, but it might chainload it via Grub or rEFInd (haven't tried this).
The MicroUSB socket works fine with OTG - keyboard, mouse and USB storage all worked through a USB 2.0 hub.
Initial things I noticed that didn't work:
Digitiser (touchscreen)
WiFi
Bluetooth
Audio
Shutdown doesn't power off the device
As you can see, graphics worked fine in full colour, even with the portrait resolution.
To be honest, I'm pleased that this boots at all!
I was wondering what information the Haiku developers need from me about the non-working devices? HID and PID? The device currently runs Windows 10 Home and will boot into Ventoy and the gparted LiveISO (Debian-based), so I should be able to get a fair amount of information on what devices it has.
I'm not a driver developer, but I'm happy to test things out.