afaik before b1-system have been support on haiku… cmiiw… i've been seen the logo some years ago on haiku website…cmiiw
It's interesting that this was launched to celebrate 30 years of Linux, but both ReactOS and Haiku are in the list of possible projects

These are the ripe times to have an OS environment that is not involved in that privacy-free vortex that is involving all the giants of the IT industry, so companies that are not happy with how things are going and want to facilitate the growth of alternatives that can rebalance the situation are welcome (I assume that the push is for these reasons). There is no doubt that this push can come from Europe, given that all the major giants come from the US and apparently are unwilling to respect the privacy and data of their Users.
Do not forget, linux is not an exception either.
No it's not, I noticed that even in that opensource environment things are getting a bit despotic following the times for how they are going in the world more generally. There is a storm going on, it will have to pass.
open source Projects
Social Projects
Information about the fundraiser
For the 30th anniversary of the Linux kernel, B1 Systems is donating 30,000 euros. Half goes to social projects, the other half - as thanks to the tireless work of the open source community - to open source projects. In the first round, suggestions could be submitted, now the community can vote until October 19, to whom the money should be distributed. We divide the sum of 15,000 euros for open source projects / associations according to the percentage of votes received. The entire amount will be paid out, but only projects or clubs where the payout exceeds € 100 will be considered.
Do You Have Questions? Please contact linux30@b1-systems.de .
There are so many projects worth to vote but Haiku is of course my favorite one. Done.
The results are published, Haiku will receive almost 800€ from this fund. Congratulations to our friends at ReactOS who received the most votes and will receive 1900€!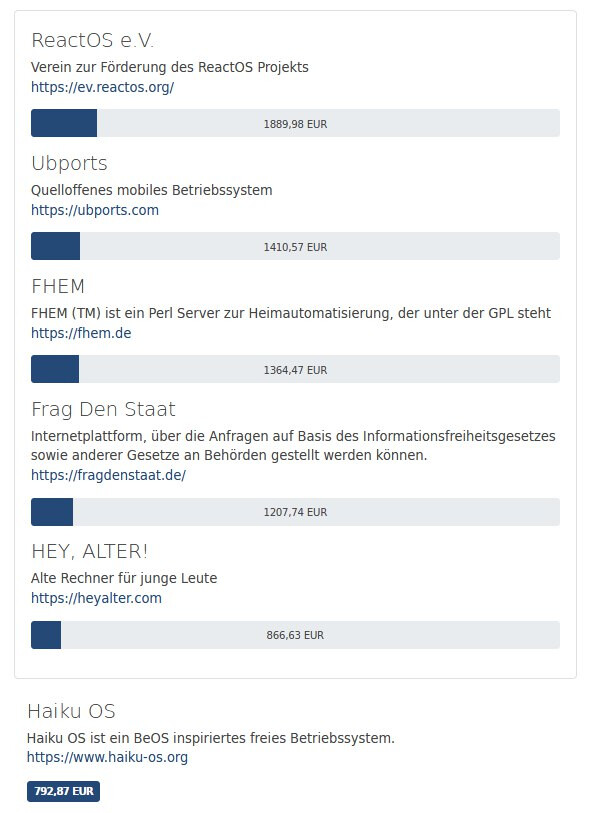 I would have voted for Haiku myself, but the voting page didn't want to load correctly in the only web browser/internet-connected device I currently have available (iOS 10 Safari)…

@BeDifferent-1 iOS 10? If you're on the 5c, I think you can still download Firefox from the App Store for it… won't be the latest version though, (I think versions from around that time were still using the Australis UI on top of WebKit) but it might still help with having the old version
I feel like they are fooling users with various screenshots, but actually system is absolutely unusable because of extreme instability. Excuses about alpha version, development in free time etc. are not working after 20+ years of development. Haiku was already usable at Alpha 1 (about 8 years from project start).
They have more ambitious goals (mainly because their target is moving as new Windows release appear, and also because Windows is bigger than BeOS), and they have a larger potential userbase (because a lot of people use Windows applications). If BeOS had continued to publish new releases for the past 20 years, Haiku would probably be long dead (or would not even exist at all) because people would just continue to run BeOS.
There is no need to fool users to get donations, people can support them even if their OS is not usable yet.
Yes, it is an iPhone 5c, but I haven't previously downloaded Firefox on any other iDevice, so I can't download an older version… And I also can't jailbreak it at the moment, because the semi-untethered jailbreaking programs I've found all require the host PC to have an internet connection, which I can't provide at the moment; otherwise I'd install an older Firefox version by sideloading.

Also, I think the older version of WebKit used by iOS 10 is part of the problem, unfortunately. There are certain pages that won't load properly in Safari that have exhibited the same issues in the few third-party web browsers I've downloaded from the App Store that still support iOS 10.
All browsers uses the same WebKit rendering engine and js engine on iOS.
That was the point I was trying to make, yes

Would using the phone as a wired personal hotspot help, I wonder? Most major Linux distributions, Mac OS 10.6+, and Windows 7 or later (with iTunes and Apple mobile support drivers installed) should all be able to recognize the iPhone tether as an Ethernet over USB connection when the Lightning connector is attached and the 'allow' switch is on (or… a wireless hotspot is also possible, although less secure)
Unfortunately that's also not an option, this phone is carrier-locked to Verizon, and none of the hotspot or tethering options are available because they're not enabled in the phone service plan…
I'd buy myself a cheap unlocked phone, but I'm basically out of money, too

Why this is not prohibited by law?