Hello,
I recently was successful in installing Haiku on an HP Pavilion g7 that I had lying around. I didn't have much hope as some hardware database reported that the wifi, touchpad, and the sound did not work. I was very surprised when all but the audio worked successfully, and I am impressed with how nippy my system is now. The web performance on this thing has always been pretty lackluster, so I'm used to long page load times. Unfortunately, I can't seem to install any applications from HaikuDepot.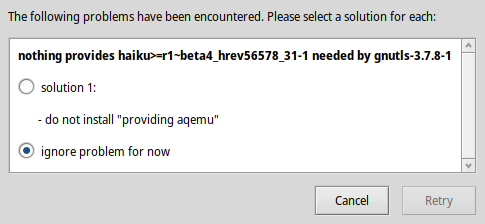 Running software updater yieled a similar result.
About Haiku reports that I'm running R1-Beta3. I assume that is the root of the issue, but I was curious if there was another way to solve this beyond making a new install media. Any help would be appreciated, thanks!