The title is quite silly, but I could not resist, sorry!


I'm trying to look into BeHappy and Dontworry, two good old programs from the BeOS era. I would like to see if I can get them running on Haiku but:
Dontworry doesn't compile
BeHappy does but at start it shows the main window for a fraction of time and suddenly quits.
I need to look into these issues later but before doing this I just wanted to see what they were supposed to do under BeOS. So I fired up QEMU on my MacBook Pro M1 and managed to have working environment. Only vanilla BeOS 5 PE works, all other distributions do not boot including Dano. I have not figured out why, to be honest.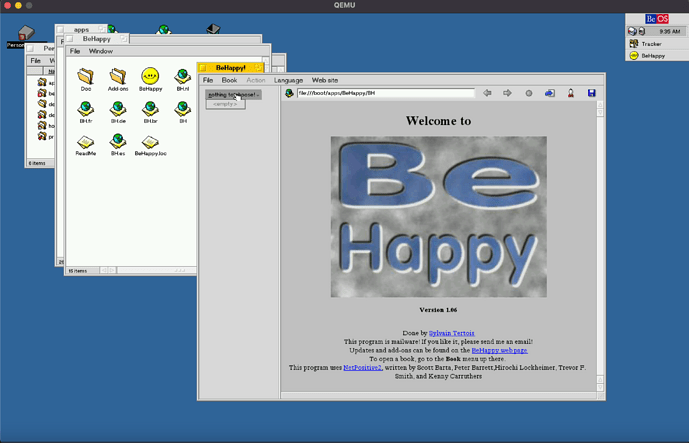 I tried to run the same image files (floppy.img + image.be) on Haiku under QEMU, but neither QEMU v3 or v6 (from LOTE repo) work. I get the infamous error message that a boot volume cannot be mounted.
Strangely enough, I'm not even able to mount image.be by double clicking it from the Tracker or mounting from the Terminal. It seems the image file is corrupted but I have done this twice. I relocated the files using an USB stick formatted in exFAT.
Does anyone have a clue about why this happens?
Moreover, did anyone manage to run BeOS in QEMU under Haiku?