Since I cannot use BeMail or Beam because I will not use "app-specific" passwords and 2FA due to that it would mess up my current configurations in Linux and Windows. However, this can change if I can figure out Balsa.
I went to their Web site–sadly, it is under-developed and they do not have any documention on how to use the software [, though they have a FAQ–but I require details on how to use this software.]
This is the main window where I added my three e-mails account at Gmail, Yahoo, & Netscape (AOL):
In the Edit–>Preferences–>Settings window, I added the IMAP & SMPT server info for each e-mail service: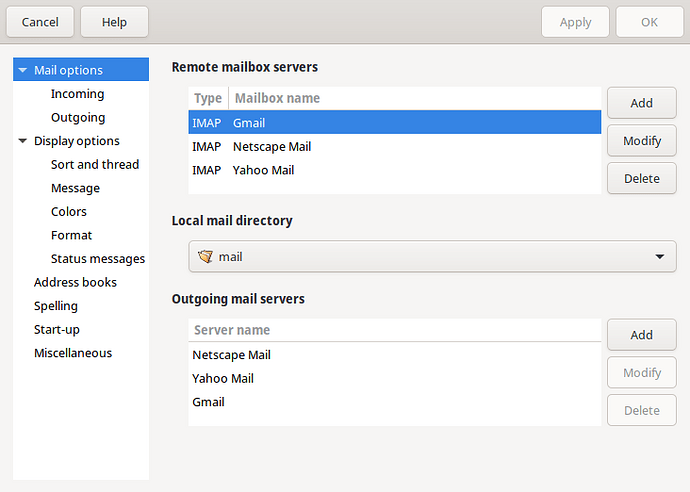 For Gmail settings, here are the settings: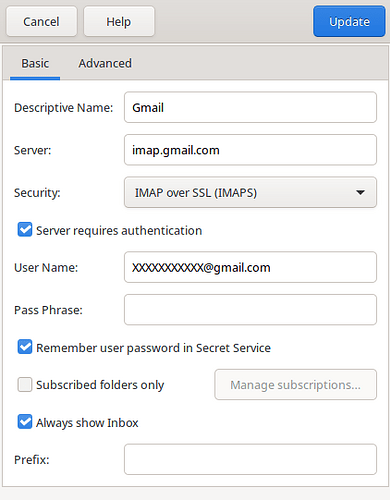 When I completed setting up IMAP & SMPT accounts, Gmail sent an e-mail that a new connection from Linux was made and wanted to make sure it was me. Well, it was Balsa running in Haiku–so yes it was. .
So I know the connections are working. So when I click on the 'Check' button or 'File'–>'Get New Mail' or 'File'–>'Send or Receive Mail; a 'Checking Mail…' window appears and closes–no e-mails were transferred to my local mailbox from any of the services.
My question is --any others Haiku users using Balsa? If so, how did you get the e-mail from your service to be downloaded into your local '/boot/home/mail' directory and populate its sub-folders?