Hi there!
First of all, I have to say that this is my first post in this fórum

Regarding my question, I have created a new program for Haiku, a native Chip-8 emulator (https://github.com/cnelmortimer/Pin8). Hence, I want to include it in the official package list as a recipe for Haikuporter. I have cloned both Haikuporter and HaikuPorts to do some testing but I am not even able to build existing recipes

This is the error I get: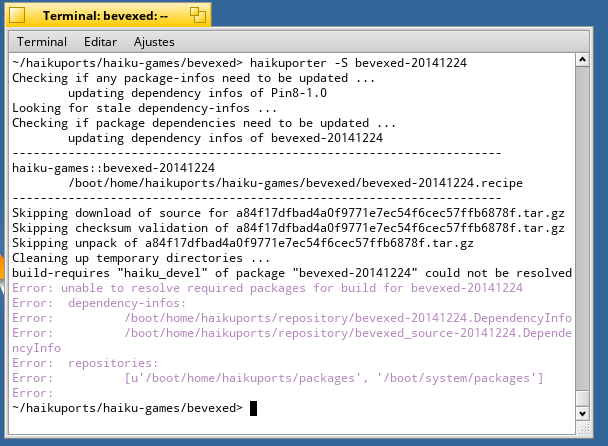 In fact, I saw the same type of error with the recipe I created for my program, Pin8, and I decided to try with any existing one such as "BeVexed". I just wanted to publicly share the program in a convenient way for users, i.e., in the package list, but I am not able to do it

Thank you in advance for your help. I apologize if this question sounds "stupid" but even though I have used BeOS, Zeta and Haiku for years, I have no experience with HaikuPorter…
Kind regards.
PS: I do not even know if you are interested in including it. If you are not, feel free to let me know that. I just wanted to develop an App that I had not seen before in Haiku with C++ and get into the BeOS/Haiku API… Thus, this is my first Haiku program in C++ and it might not be as good / well-written as you want.