Hi,
I think Haiku should take the good ideas and the right community standards at its first days otherwise it will know the same insuccess story than Syllable or Linux. It should be an OS built over a clean, unified, solid and tidy base structure.
I think the /boot/home/config folder is not really so good because there are more clean alternatives.
Actually the future /boot/home/ tree will look like this :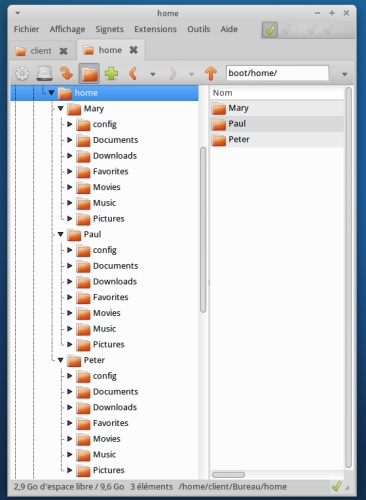 The personal folder of each user is encumbered with a "config" folder that should definitely not be deleted (the novice user don't know anything about that!)
An alternative is to separate between "config" and user directories :
But my definitively prefered alternative is to put "config" at the root ("Configuration" is more clean) (use of autocompletion at command line) + renaming "home" to "Personal" (at the root also) :
And I think the definite good choice for configuration storage is a database like libelektra.
Without a such database, Haiku will be a "command line oriented" operating system as Linux is, because of many "non-standard" config files.
So in our near future we will have to deal with many commands like this :
sudo notepad /boot/home/config/foobar
Really not so "easy to use" for dummies.